Indian Railway Reservation Form
We all know that, how railway reservation system works. If you want to book or cancel ticket, you need to fill a form called "Reservation Form". Most probably, you will get that form on railway reservation counter. Usually for booking/cancelling the tickets, we go to the railway station and collect the form from the reservation counter, and after filling the form we submit it to the counter.
For doing so, you will have to deal with a long queue of people. If you want to join the queue instantly then you must have a filled reservation form. Normally we don't have that form because it's only available on a railway station. So, to get it, you need to go to the reservation counter. You collect the form the window and after filling it joined the queue. But, in between many others joined the queue. Maybe, they already came with filled form. Now, this question will arise in your mind, how they already got that form. As per me, they gathered it from the counter before coming for booking or downloaded it online. Yeah, that's right you can get online too.
If you are thinking, perhaps I should have come with filled form. Then your mind is on the right track, so to join the queue instantly, just download the form below and be next. While filling the form, make sure all the data is accurate, it will be helpful in case you lost ticket or came across any kind of accident.
The reservation form will look like exactly the following image.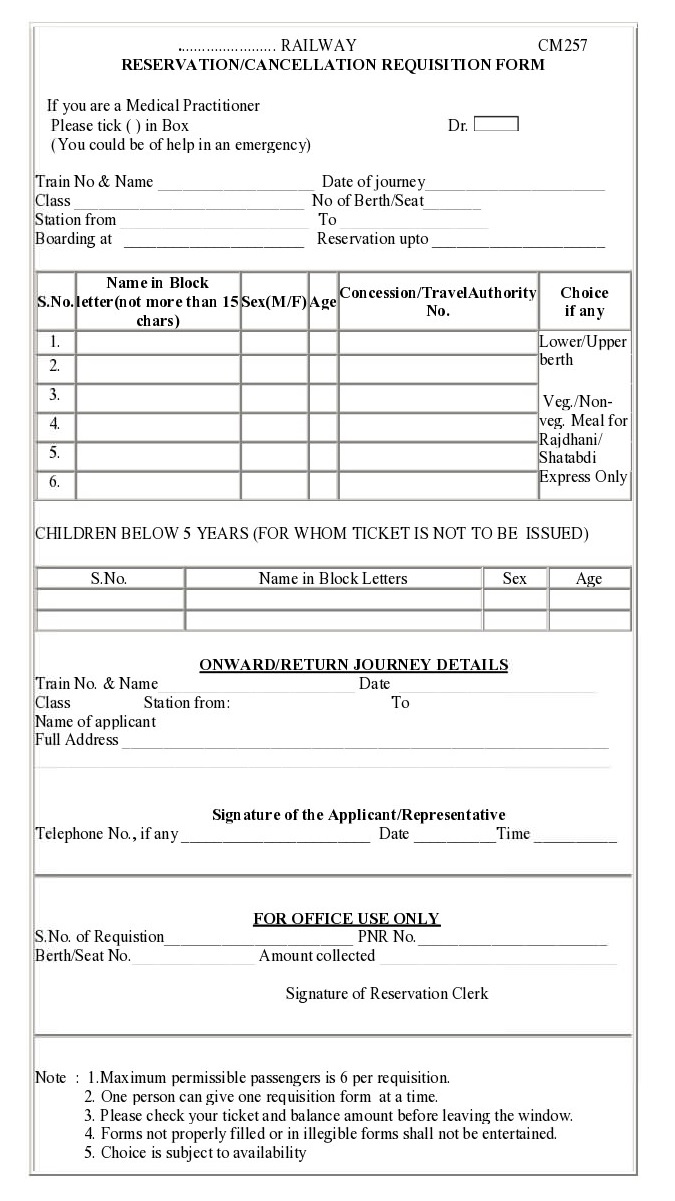 I suggest you to download and print more than one form as it will prove helpful when ticket is not available in desired train. To see the sample form, simply visit the Indian Railways official site by following the anchor link.